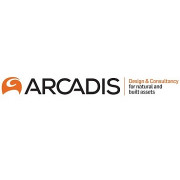 Lead Civil Engineer - Rail
We at Arcadis are recruiting for a Lead Civil Engineer to join our Rail Business based in Birmingham. The Lead Civil Engineer will oversee the integrated design of earthworks, drainage, hydrology, landscaping, fencing, structural heave and settlement mitigations across the entire linear trace of C23 Contract.
About Arcadis:   At Arcadis, we never lose sight of what's most important. Because look beyond our projects and programmes and you'll see it's about human stories. From remaking public spaces that bring people together, to making cities easier to navigate, we're focused on making an impact where it matters most – and improving quality of life.
It's a big challenge. And why we need people committed to bringing their best, who deliver on their promises. People who value different perspectives, build sustainable relationships and dare to shape the future. People who seize the experiences available to transform their world – and the world around them.
It's a shared goal amongst 27,000 Arcadians. And one we can only achieve by working together and applying our skills and expertise across design, consultancy, engineering, project and management services. It's how we'll find solutions to our clients' most complex challenges. And how we'll deliver exceptional results, today and tomorrow.
About the Role:
To liaise directly with Contractor for earthworks and set expectations relating to the information required by them for planning and pricing of the main earthwork's packages.
Manage and be responsible for the delivery of this information to the Contractor.
At an engineering working level, to facilitate strong relationships between the DJV technical disciplines that comprise the overall Civil Engineering work-scope at the designer level.
To provide regular updates as part of the Senior Leadership Team to demonstrate that integration across technical workstreams is fully co-ordinated and mechanised.
To ensure that change is cascaded to the effected disciplines in a controlled and structured way that protects overall schedule integrity.
provide technical and professional leadership in their discipline and subject area in the DJV, establishing and consolidating relationships with clients, taking ownership for the delivery of the DJV's technical capability and supporting the delivery of th
are responsible for the production of consistently high quality engineering designs across all DJV delivery teams. Driving consistency of approach, ensuring compliance with technical standards and producing solutions that are demonstrably safe and healthy
lead the development of DJV capability in the discipline and build and maintain a professional reputation for the DJV.
Working Relationships & Contacts
Operational Teams -  being engaging and supportive for technical staff to ensure that the best technical advice is available during the design process.
Design Package Managers and Design Managers -  continuing dialogue about team and individual performance and technical needs. Being the controlling technical mind in area of expertise.
Project Leadership - provide insight around emerging technical issues and work with project leadership to agree solutions.
Health and Safety Manager - work to ensure that health and safety is a golden thread that runs through design production.
Quality Assurance Manager - supporting project surveillance and learning lessons.
IDMT - Providing a conduit for IDMT support and input to the design and construction process
Key Accountabilities:
champion the preparation of designs that are safe and healthy.
use the DJV health and safety culture  to drive continuous improvement in health, safety and welfare.
assess the competency of nominated project staff from all areas of the DJV and issue Authority to Work. Monitor competence in accordance with competence management process.
appoint, develop and lead an engineering team in specialist discipline, setting objectives and managing performance to ensure that the subject team has the resources and capability to deliver for the DJV.
develop the Project delivery methodology
coach and mentor senior engineering professionals to support the development of the DJV talent pool and help our people to realise their potential.
maintain metric around technical quality of individuals and teams within specialist discipline from involvement in projects and technical reviews. Identify and implement improvement plans.
lead the technical delivery of specialist areas of the project to ensure client satisfaction, effective technical management and good communication and collaboration between DJV colleagues.
lead on the design of innovative engineering solutions to resolve complex problems.
identify opportunities and drive implementation of re-engineering strategies to maximise the VfM of design components.
resolve technical issues which have a potentially damaging effect on the wider team relationships.
support the management of risk on the project by leading technical reviews and following up review findings.
work with the Quality Assurance manager to respond to identified issues in compliance with project processes.
promote DJV technical excellence across wider HS2 programme and peer groups.
keep up to date with developments in the industry sector and with technical and legislative developments and seek out opportunities to develop a strong professional profile at a National level to represent the DJV (e.g. conference presentations, publications)
prepare updates on changing standards and deliver this information to design teams.
Knowledge & Experience:
can exercise responsibilities in an ethical manner.
are able to provide input to estimates for the engineering budget and schedule and to oversee technical resources to meet requirements.
are able to plan and manage tasks to time, budget and quality.
can communicate effectively, both orally and in writing, with people at all levels, across the project organisation and externally with demonstrated ability to prepare project reports.
have good interpersonal skills with the ability to build effective working relationships with people at all levels across the project organisation and externally.
can lead continuous improvement in "Safe by Design". Able to articulate compelling narrative around "Safe by Design"
understand how to manage health, safety and welfare within own area of responsibility. Including awareness of safety issues in an operating railway environment.
have extensive knowledge of legislation, hazards and safe systems of work.
are experienced in leading and working with, people from varied discipline, backgrounds and cultures.
are experienced at working with Project Technical Governance processes.
can provide technical leadership at a subject level.
are knowledgeable about risk management processes.
are experts in their chosen field
understand Systems Engineering processes, requirements, interfaces, Engineering Safety, RAM, EMC, Human Factors as part of the approach to project assurance and are able to work with System Engineers.
have a sound knowledge of sustainable development best practice and routinely deliver sustainable technical solutions.
must be able to lead engineering activities that contribute to sustainable development.
are able to lead continuous improvement in sustainable development.
Why Arcadis?
At Arcadis, you'll have the opportunity to build the career that's right for you. Because each Arcadian has their own motivations, their own career goals. And, as a 'people ?rst' business, it's why we'll take the time to listen, to understand what you want from your time here, and provide the support you need to achieve your ambitions.
Wherever you join us, you can look forward to a competitive reward package that includes an attractive starting salary, opportunities for career development and being part of a sociable community. We have a performance-related bonus scheme and an employee recognition scheme.
Other bene?ts include membership fees to join your relevant professional body, employer contribution pension scheme, ?exible working and a flexible holiday scheme.
We believe that by working together diverse people with different experiences develop the most innovative ideas. Equality, diversity and inclusion is at the heart of how we improve quality of life and we work closely with our people across six ED&I Workstreams: Age, Disability, Faith, Gender, LGBT+ and Race. A diverse and skilled workforce is essential to our success.
Competitive