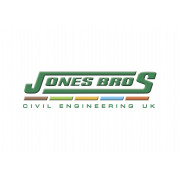 Quarry Operations Manager
About Us
Operating for over 50 years, Jones Bros Group is an award-winning civil engineering company based in North Wales. Providing complete civil engineering solutions for a range of projects across the UK, we have an extensive track record in Renewables and energy, Waste management facilities & landfill engineering, Highways & Rail, Infrastructure including business and industrial parks and Flood, Coastal & Marine Infrastructure.
With a workforce of over 500 people, we lead the way in progressive engineering and use the latest civil engineering techniques to minimise the environmental impact of our work. So, join us as we continue to grow and we will recognise the part you play.
The Role
Award-winning construction company Jones Bros, has an excellent opportunity available for an experienced Quarry Operations Manager to join their their growing Cambrian Services team.
Our expertise and forward-thinking approach has also earned us a reputation for undertaking construction work in some of the UK's most demanding environments. From the production of aggregates and concrete in remote locations with challenging terrain, to projects in ecologically sensitive areas, our engineers relish the opportunity to develop innovative solutions for our clients.
To efficiently support such projects and continue its growth, Jones Bros operates a wholly owned subsidiary Cambrian Services Ltd to specialise in the delivery of quarry and concrete production solutions.
As Quarry Operations Manager, you will be required to work at various locations throughout the UK. Reporting to the Senior Materials Manager, you will be responsible for developing and implementing both quarry based and onsite construction material production operations, working with our estimators, contract managers and engineers to deliver construction projects throughout the UK.
The role's responsibilities will include:
Review of Site Ground Investigation Reports and determination of possible uses for materials.
Review of contract material specifications
Costing of both company quarry and onsite material production operations in conjunction with operational staff.
Implementation of supply and development plans to a high standard of health, safety, environmental awareness and quality, whilst achieving levels of production and operating costs to meet agreed demand
Participating in the site management team and ensuring adequate production and quality control measures are available in a timely manner to comply with project's timescales and contract requirements
Ensuring the efficient maintenance and operation of the company's crushing and screening fleet.
Preparing and submitting reports on progress of projects including analysis of supply risks and remedial measures.
Operation and control of the company's own quarry operations.
Ensuring company procedures and systems on Quality, Health & Safety and the Environment are implemented and complied with.
Actively promoting training and providing guidance to staff, to fully develop their skills and competencies
Developing and securing new clients and markets.
This is an exciting opportunity for a quarry professional to widen and develop their knowledge in a diverse range of contract types and environments and to develop and promote Cambrian Quarry Services business.
The role is for permanent employment.
What we are looking for
To be considered for this Quarry Operations Managers role the following experience, knowledge and skills are required:
Minimum 5 years' experience in a relevant industry environment
Additional experience in either ready mixed concrete or bituminous material production.
Hold or be working towards; SHE quarry management NVQ level 4 / QCF Level 6 qualification
Proven experience as a Quarry Manager holding or having held appointments under Quarries Reg 8.1.c together with proof of competence by CPD.
Good organisational skills.
Excellent interpersonal, listening and negotiation skills.
Computer literate with good working knowledge of Microsoft Word, Excel, Outlook.
High level of communication and language skills to orally present reports, information and responses during meetings with clients or other parties
Ability to write reports, correspondence and procedures
Ability to define problems, collect data, establish facts and draw valid conclusions.
What you'll get in return
You can expect:
Competitive salary
Benefits package including company pension
Company Vehicle
21 days annual leave – plus bank holidays
Support for any ongoing professional training if required.
We can offer long-term career opportunities where your pay will increase as you gain more experience.
Apply today!
Covid-19
All our workplaces are Covid secure.