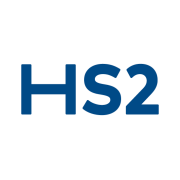 Commercial Manager
Salary: £48,900 - £61,140
About us
HS2 is Britain's new zero carbon, high-speed railway, and the country's flagship transport levelling up project. It is the biggest rail investment ever made in the North of England and is Europe's largest infrastructure project. Major civil engineering works are now underway with £23 billion contracted into the supply chain and around 350 active sites between the West Midlands and London, supporting over 28,500 jobs, delivering benefits before a single train has started running.
The new high-speed line will run between the North West and the South East, stopping at Manchester, Birmingham and London with trains continuing on the existing network to Scotland and elsewhere. In total, over 250 miles of new high-speed line is planned across the country. The first HS2 services will run between Birmingham Curzon Street and Old Oak Common in London between 2029 and 2033, and expand as new sections of the network are built.
About the role
When you join us as a Commercial Manager, you'll be responsible for the pre-contract development of commercial works information, the reviewing of information from other functions, and drafting contract documents to ensure consistency and alignment with procurement plans. During the procurement phase you'll evaluate tenders and support the necessary moderation to achieve contract awards, and assist with the development of contract management plans.
Your post-contract responsibilities will be extensive, and include delivering commercial and contract management to retain effective commercial control, maintaining effective cost verification, and reviewing and analysing supply chain reports. You'll also input contract level performance information into MBRs, contribute to contract and programme performance reviews, and support final cost estimate updates.
Another key task will involve supporting the development of a collaborative culture within the Integrated Project team. This should encourage innovation, enhance functional capability, create consistency of performance, maximise the benefits of knowledge sharing and embed best practice across the organisation. We'll also expect you to actively promote equality, diversity and inclusion, and comply with all related organisational initiatives, policies and procedures.
About you
You'll have worked with a publicly funded body or project. We'll also look for experience of planning, developing and implementing infrastructure contracts, of working with procurement teams in the preparation, administration and evaluation of tenders, and a practical understanding of commercial management and reporting systems.
Capable of managing and administering high value and delivery-critical contracts, and developing commercial strategies relating to capital projects, you'll have the ability to support the value driven management of commercial relationships within a supply chain. A skilled negotiator and diplomatic solver of disputes, you'll be ready to manage a range of stakeholders as you achieve successful project outcomes. And with the ability to develop commercial policies, processes and procedures, and support the ongoing development of high performing teams, we'll also expect you to have excellent contract, commercial and risk management skills.
About our benefits
We reward our people for their hard work and commitment. In addition to your salary, we offer a range of benefits which include generous annual leave, a highly competitive pension scheme with a company contribution of 12%, three paid volunteering days a year, and access to 24/7 GP consultations through AIG Smart Health. Additional benefits include a Westfield Health plan including dental, access to a wide range of webinars and online classes, and a discounts and cashback platform. You'll also have access to a 24 hour advice and information line through our employee assistance programme. This is a confidential service which can provide advice on medical, legal and domestic issues from experienced counsellors, lawyers and medical advisors.
We encourage applications from people from all backgrounds and aim to have a workforce that represents our society. We pride ourselves on being an employer of choice. We champion diversity, inclusion and wellbeing, and aim to create a workplace where everyone feels valued and a sense of belonging.