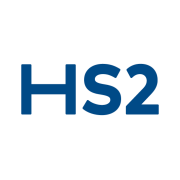 Procurement Manager
Base salary: £36,300 c. £49,100 pa depending on skills and experience. In addition, we offer flexible benefits fund of 15% which is paid on top of base salary and is fully pensionable, as well as a range of competitive benefits - check them out in the Benefits section on our website.
About us
HS2 is Britain's new zero carbon, high-speed railway, and the country's flagship transport levelling up project. It is the biggest rail investment ever made in the North of England and is Europe's largest infrastructure project. Major civil engineering works are now underway with £23 billion contracted into the supply chain and around 350 active sites between the West Midlands and London, supporting over 28,500 jobs, delivering benefits before a single train has started running.
The new high-speed line will run between the North West and the South East, stopping at Manchester, Birmingham and London with trains continuing on the existing network to Scotland and elsewhere. In total, over 250 miles of new high-speed line is planned across the country. The first HS2 services will run between Birmingham Curzon Street and Old Oak Common in London between 2029 and 2033, and expand as new sections of the network are built.
About the role
When you join us as a Procurement Manager, you'll be responsible for the delivery elements of the operational procurement for a relevant package, and assist with overall procurement, ensuring that this is aligned with similar packages. Supporting the achievement of governance approval and the assurance of all procurement deliverables, you'll manage the evaluation processes for the relevant package, work that will include managing the day-to-day evaluations undertaken by your colleagues, and ensuring these gain approval and assurance to allow short-listing and contract award.
Key to your success will be ensuring that our procurement activities are undertaken in compliance with EU and UK legislation while driving a process that will become a benchmark for future projects around the world. Assisting team members in the use of eSourcing, and confirming that procurement reporting and management information synchs with HS2 business reporting rhythm and cycles, you'll also maintain the appropriate storage, distribution and compliance of systems data.
Always ready to advise your HS2 colleagues on the correct approach to procurement, it'll be your task to respond to challenge and scrutiny through presentations to boards and committees. We'll also expect you to actively promote equality, diversity and inclusion in your work, and comply with related organisational initiatives, policies and procedures.
About you
With well developed experience of operating in a matrix environment, and of using different procurement routes including OJEU frameworks, you'll possess the ability to influence and persuade on the basis of analytical and fact-based discussion. Skilled at procuring complex, large value construction works and services, you'll possess excellent stakeholder relationship and management experience, and your superb communication skills will allow you to engage with a wide range of audiences.
We'll expect you to have the ability to compile tender and commercial documents, and be ready to use a range of negotiation tactics and strategies to secure optimal outcomes. Capable of developing meaningful metrics for procurement selection purposes, incentivisation and contract performance measurements, you'll be an inspirational mentor and coach, with the skills to support the effective development of your colleagues. You should also have the ability to generate a wide range of ideas and solutions to address problems and make improvements.
About our benefits
We reward our people for their hard work and commitment. In addition to your salary, we offer a range of benefits which include generous annual leave, a highly competitive pension scheme with a company contribution of 12%, three paid volunteering days a year, and access to 24/7 GP consultations through AIG Smart Health. Additional benefits include a Westfield Health plan including dental, access to a wide range of webinars and online classes, and a discounts and cashback platform. You'll also have access to a 24 hour advice and information line through our employee assistance programme. This is a confidential service which can provide advice on medical, legal and domestic issues from experienced counsellors, lawyers and medical advisors.
We encourage applications from people from all backgrounds and aim to have a workforce that represents our society. We pride ourselves on being an employer of choice. We champion diversity, inclusion and wellbeing, and aim to create a workplace where everyone feels valued and a sense of belonging.